India Venture Fund report: Guwahati-2019
This is a report of the India Venture Trip funded by UNT International:
Laying the Groundwork for the NSF IRES and REU at IIT-Guwahati
Three students travelled to India with Shobhana Chelliah:
Mary Burke
PhD student, Information Science and Linguistics
Levi Acord
MA student, Linguistics
Ashley Manis
BA student, Linguistics
These students were recruited from Shobhana Chelliah's graduate course LING 5400 Tools and Methods for Lexicography and Language Analysis. These students are interested in language documentation and furthering the development of infrastructure for the preservation of endangered languages.
The report outlines our activities and plans for future work.
Indian Institute of Technology - Guwahati and Gauhati University
In Guwahati, the students had the opportunity to meet with faculty members at both
IIT-Guwahati
and
Gauhati University
to discuss their ongoing work and projects they are interested in doing in the future. Three professors we talked extensively with are:
(1)
Dr. Shakuntala Mahanta
of IIT-Guwahati presented her recent publication on tone in an endangered language of Northeast India to us. She hosted us at her home and came to visit us at the guest house several times to discuss research collaboration.
(2) Phonetician
Dr. Priyankoo Sarmah
discussed his own work on the phonetics of the languages in the region and was able to instruct our students on their work in this area. (3) Computational linguist
Dr. Sanasam Ranbir Singh
discussed his work on language models for low-resourced languages and how his lab works on automatically transliterating text from the Meitei Mayek to Roman script.
UNT IVF team with Dr. Priyankoo Sarmah in the Humanities and Social Sciences block at the IIT-Guwahati campus
We explored the possibility of future collaboration with these professors and the development of infrastructure for an open archive of South Asian languages (CoRSAL).
UNT IVF group meeting with Dr. Tamuli of Guahati University and members of the Linguistics department.
At Gauhati University, we met with faculty at the Department of Linguistics.
Dr. Jyotiprakash Tamuli,
the chair of the Linguistics department discussed the curriculum their programs follow. He explained why they place emphasis on bringing together literacy, education, and creating resources for under-documented languages of northeast India.
Dr. Praffula Basumatary
, a professor at Gauhati University, is planning a 6-month visiting scholar visit with UNT in 2020.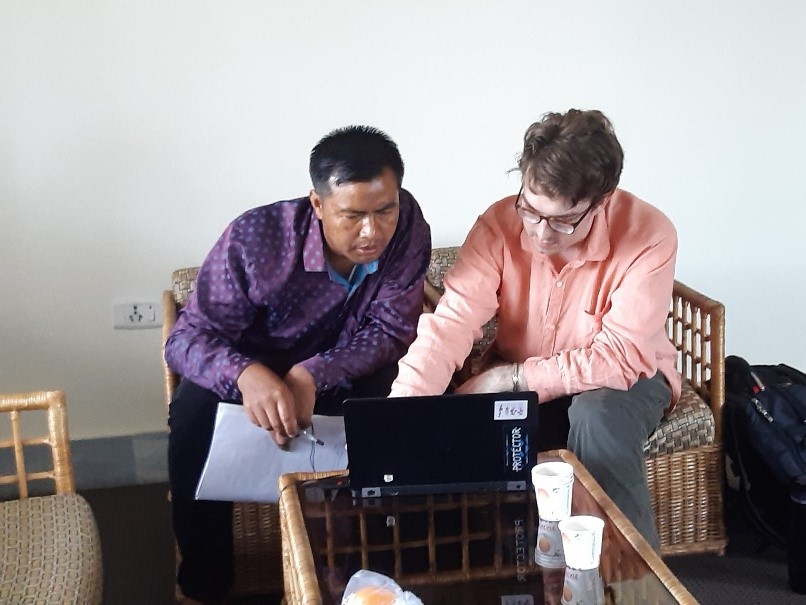 The students also experienced an extended stay at the IIT-G guest house where we did some informal interviews with speakers of two Tibeto-Burman languages. The students shared with our consultants about software we use in language documentation so that they may also use these tools in their work.
Levi Acord showing fellow linguist and native speaker of Meitheiron how to use FLEx software
Digital Archiving Workshop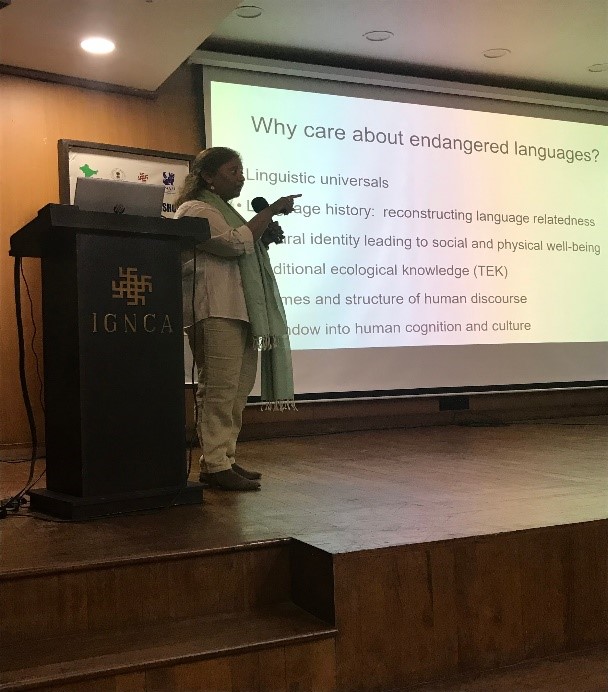 Shobhana Chelliah opening the International Workshop on Digital Archiving with a discussion of why we should care about endangered languages
While in Guwahati, we also prepared a set of lectures for presentation in Delhi at the
Indira Gandhi National Center for the Arts.
The students had the opportunity to use the knowledge they had gained in LING 5400 to present and moderate two days of workshops with about 15 participants from Tibeto-Burman language speaking areas and 10 additional local participants including faculty from the Delhi University.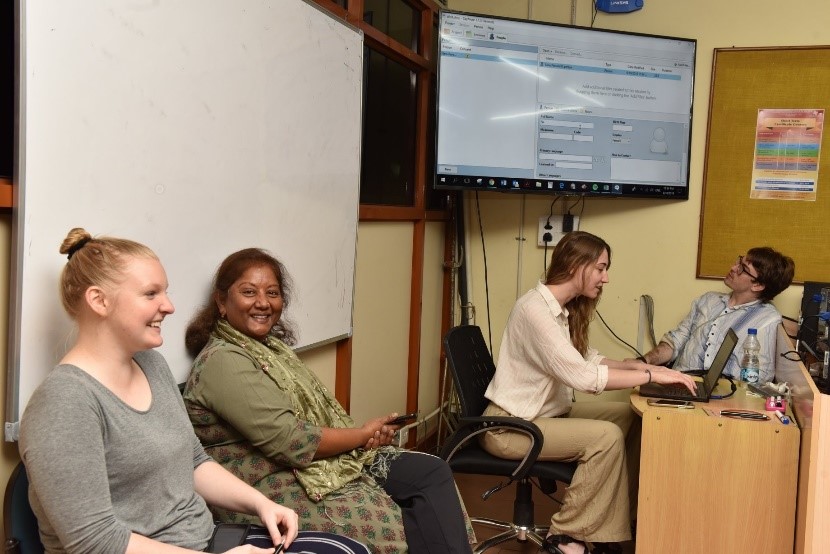 Ashley Manis and Levi Acord leading a software tutorial on SayMore.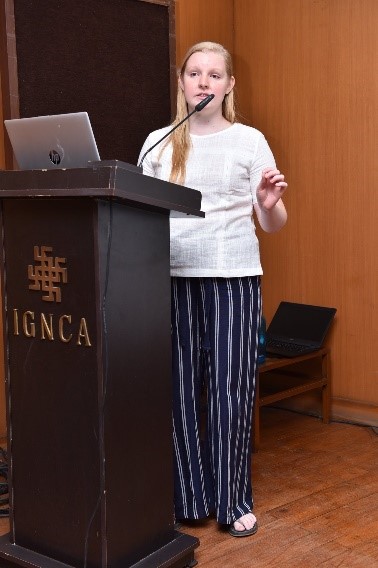 The International Workshop on Digital Archiving at the Indira Gandhi National Center for the Arts was held in conjunction with the
Imasi: The Maharaj Kumari Binodini Devi Foundation
. This workshop covered the state of language documentation in India, methods, software, and hardware for language documentation, metadata creation for archival deposits, in addition to larger ethical concerns about access, ownership, and intellectual property as it relates to cultural heritage. Mary Burke lead sessions and gave talks about the importance of metadata in language archives, and the current state of language archiving worldwide. Ashley Manis led a tutorial on using SayMore, a data management tool for language documentation projects. Levi Acord discussed the importance of interlinear glossed text (IGT).
Mary Burke presents on metadata in language archives.
The student impact of this IVF is reflected in the following quotes from students: Mary Burke says: "This trip gave me the opportunity to make numerous professional connections, discuss digital language archiving with a wide range of users, and further my language documentation fieldwork experience. Levi Acord says: "The partnerships and connections we made during this trip, as well as the experience I gained doing this will help me to move forward in my career in language documentation". Ashely Manis noted that she learned more from a week in the field that in a semester-long class.
The professional connections and partnerships formed during this trip will result in various future collaborations between language communities, IGNCA, Indian linguists, and the UNT College of Information and UNT Digital Libraries. Stay tuned!!
Another important event at Delhi was the presentation by Shobhana Chelliah of the Tibeto-Burman Languages in the Global Age. 6th M.K. Binodini Devi Memorial Lecture, June 10, 2019 IGNCA New Delhi which is available from the live streaming here:
https://www.youtube.com/watch?v=j-osBGZEHBs
.
Details of topics and each student's contributions are given in the schedule of activities are as follows:
June 10

June 11

What is Language Documentation - Why

care, uses of documentation/Chelliah

Data management with SayMore/ Acord & Chelliah intro and practice

Individual and community goals for

LD/Chelliah and Khullar

Language documentation in India/Chelliah

Sharing - audience input on their

experiences with LD/moderated by Acord/Chelliah

IGT illustration/Acord

Overview of Language Archives/Burke

Creating IGT with FLEx/Chelliah & Manis

Take a tour of Lamkang Language

Resource/Burke

Legacy materials/interview of Thangi Chhangte by Chelliah

What would you deposit, advantages, disadvantages/Discussion/Introduced by Manis/Moderated by Basumatary

BREAK

Access, Rights, Copyright, IP/Chelliah

Metadata fields/Burke

Discussion/in small groups led by Manis/Burke/Chelliah/Basumatary/Acord

LUNCH

LUNCH

Pena; demonstration of Khamba and Thoibi

File types and naming/ interview of Basumatary by Acord

Spoke and Hub model- collections, websites, archives/Chelliah, CoRSAL as it fits in this scheme

File Naming: Protocols, consistency, metadata + practice/Lecture/Burke

Setting up local archives - possible, desirable, who would decide what to deposit, control, framing, giving access.

Uploading files, creating sessions, metadata, transcription/Preview of Saymore /Acord

On the Jalakeli collection and Imasi collection/interview of Roy by Chelliah
In addition to the students took two excursions: a day trip to Shillong in Meghalaya and four days to the hill station Mussoorie in Uttarakhand. Both hill station trips showed students about summer culture – both for during the British era and today.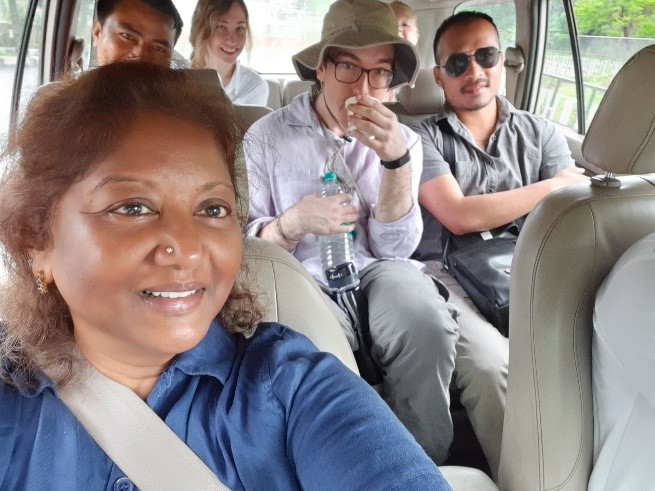 Off to Shillong for the day and meeting linguist Thangi Chhangte

Prayer Flags near Mussoorie Tibetan Monastery
View from Flag Hill at the Jabarkhet Wildlife Reserve in Mussoorie
The purpose of this IVF trip was to assess the feasibility of IIT-Guwahati as a site for future trips funded by one of two NSF programs: the Research Experience for Undergraduates (REU) and/or the International Research Experience for Students (IRES). Among the major successes of this trip are the professional connections made with researchers at Guwahati University, IIT-Guwahati, and Delhi University, and the excellent reception of the International Workshop on Digital Archiving.